Connection Model clients often ask about how to build compelling Infographics. When done well, they can be a seemingly limitless source of quality inbound links. The challenge until now is the cost: One excellent "Infographic Agency" I spoke with charges in excess of $25,000 per Infographic. WOW. You had BETTER get a lot of link value from an investment like that.
A compelling demonstration of the power of software
So, without further delay, we unveil below an experiment into the future of Infographics, made possible by a really intriguing company called Visual.ly (see Visual.ly in Mashable), compelling data from Twitter, and the not-too-serious notion of comparing one of my Twitter profiles to that of one of my absolute heroes (in life and in the world of social media), Author and Visionary, Guy Kawasaki.
It seems that on the development road to what Visual.ly is calling "YOUR DATA, VISUALIZED", they've launched a tool that will compare two Twitter accounts and compile an Infographic... for free.
Coming Soon: Push-Button Infographics (or is it Infographics-as-a-Service?)
Visual.ly Labs promises to help us, "create beautiful data visualizations in minutes and instantly apply the stylistic genius of the world's top information designers to your designs. Plug and play, then grab and go with our push-button approach to infographics and data visualization."
I, for one, cannot wait until they make this a reality!
And please keep this in mind: this is not a desperate attempt to inflate ego (by comparing this author's stats to those of a Twitter legend), it was merely the first data set we thought to run through the tool, so please keep a smile on when you review the data below.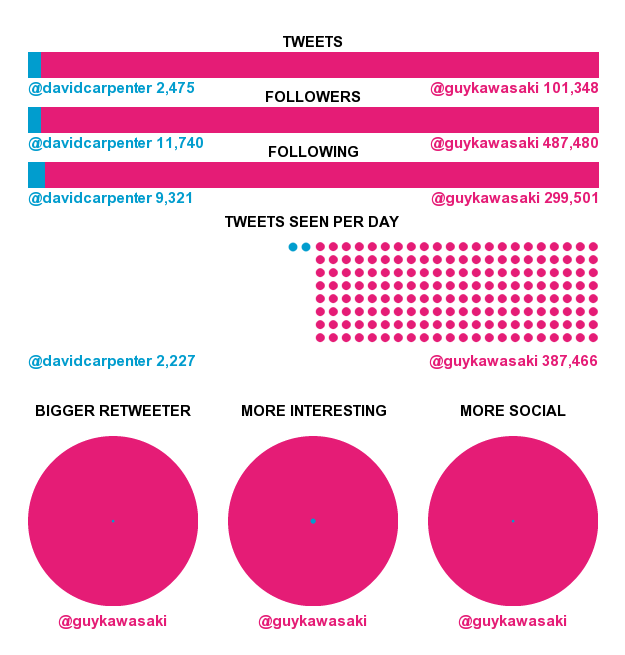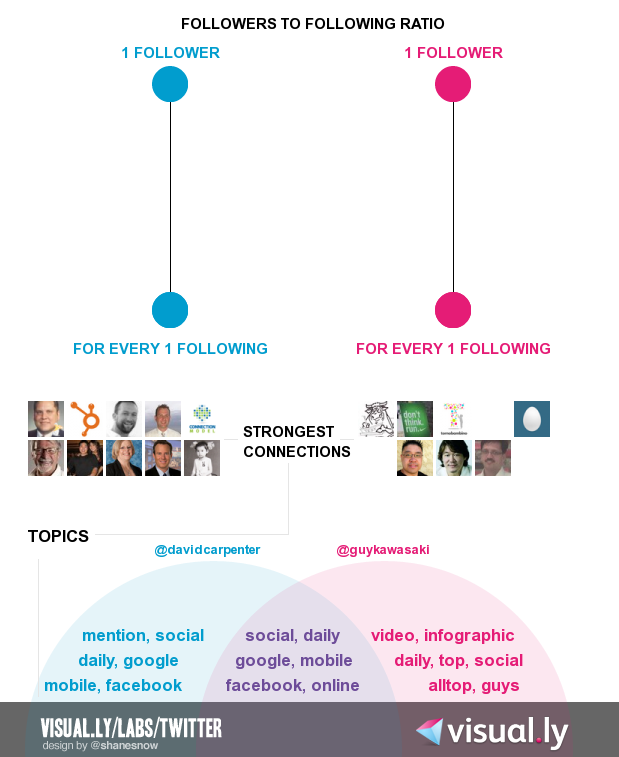 So if I'm reading the data correctly, Guy is a bigger retweeter, more interesting and exponentially more social. He also has 50Xs the followers and his tweets are seen 30X more each day. Hardly a comparison... but what a graphic!
Talk Back
Let us know what you think by leaving a comment below. Can the creation of Infographics be automated in the very near future by leveraging software and unique data sources (like Twitter) available online?