Let's walk through how to setup a new Facebook advertising account using the Ads Manager. By doing so, you will have control over the creation of new ads, measuring performance of ads, adding new users and updating billing information.
To get started:
Step 1: login in to your personal facebook account.
Step 2: Click on this link to go to the Facebook Ads Account Settings page: https://www.facebook.com/ads/manage/settings.php
(If you aren't directed to the proper place however, go to the Ads Manager by clicking on the link from the left side of your Home screen.)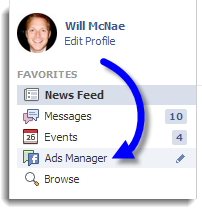 (Then click on the Settings link on the left side while in the Ads Manager.)


Step 3: Scroll down to the Permissions area and click "Add a User."



Then (as an example) enter my name (Will McNae) if we are friends or my email address to add me (willmcnae [@] hotmail.com) if we're not yet friends.
Add as "General User".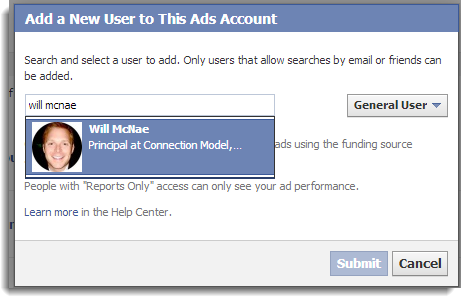 General Users can see and edit your ads and set up ads using the funding source you associate with this ads account.
Step 4: Add Billing information by clicking on Billing and then Funding Sources in the left menu.
Click on Add New Funding Source.



Step 5: Add business/company credit card or PayPal information.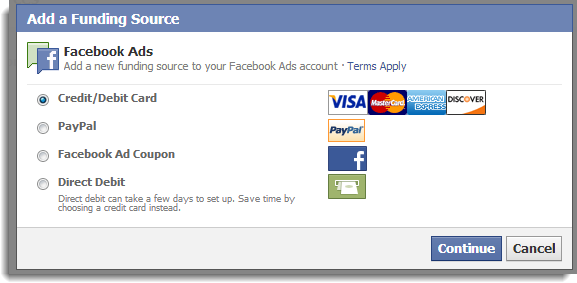 This completes the setup process for your new Facebook Ads Account.
If you have further questions or would like to learn Best Practices that will help using Facebook for business - please contact our team.