There's certainly an overwhelming amount of media coverage in the week leading up to the Super Bowl, but how do the teams fare on a media comparison... specifically speaking, how do the teams and their respective fan bases compare in terms of sheer numbers, amount of interaction and contagious excitement (as measured by re-tweets and shares?) We decided to use social media tools and methods we typically reserve for clients to try and find out!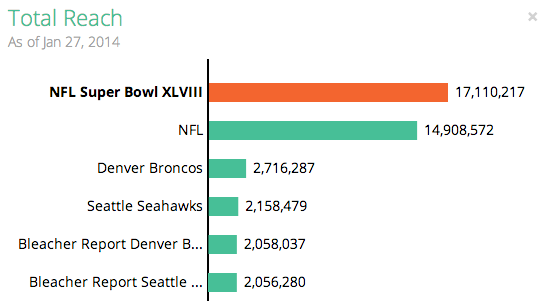 The following is part 2 in a series. Part 1, "Broncos or Seahawks? Who's winning the Search Engine Bowl Game?" is suggested reading if you enjoy this post.
Who's Winning the Battle for Twitter?
Well, it turns out, the answer really depends on what you plan to measure. If the criteria is the volume of tweets, the Seahawks come out a mile ahead of everyone, with the Broncos dead last.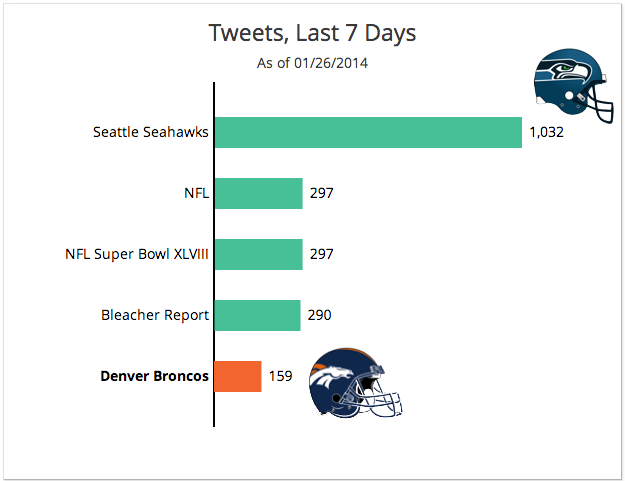 If your chosen criteria is number of Twitter followers, however, the Broncos take back the lead, only falling behind the more geographically broad-interest NFL, Super Bowl and Bleacher Report accounts themselves.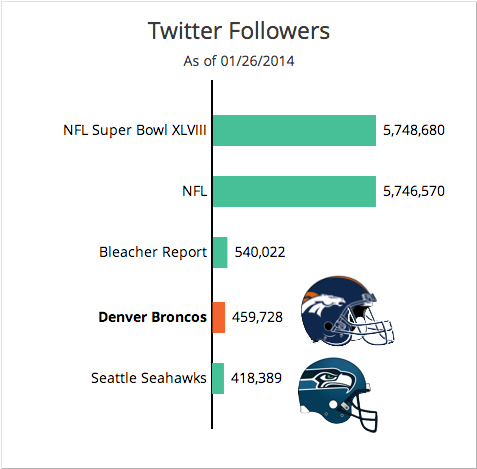 How about Social Engagement?
After all, isn't that we're all supposed to be measuring these days ... the active participation of followers, sharing and rating the content the brands produce? When Engagement is measured (definition below) the Seahawks pull ahead again... just behind the NFL's two major Twitter properties.
Who's winning the battle for Facebook?
This one is a clear win for the Broncos who lead the Seahawks by nearly 800,000 fans/likes. To me what's especially impressive is that the Broncos have roughly one-quarter of the likes of the NFL. (That's a fan base that could even make Mark Zuckerberg blush... maybe even sweat?)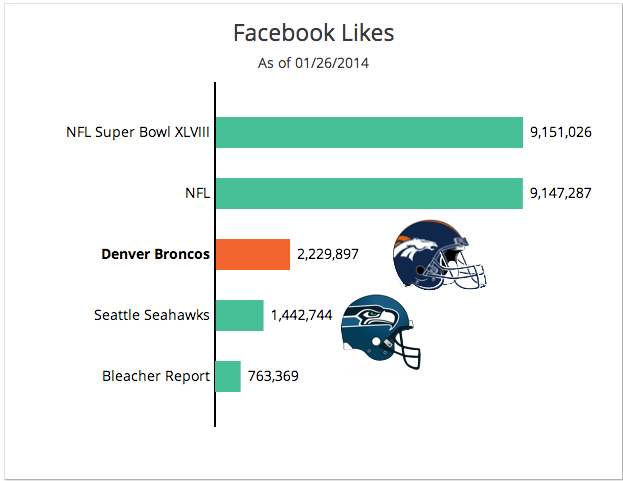 So... who wins this round?
With their overwhelming edge in sheer numbers (followers, likes and total social reach of nearly 3 million) the Social Bowl Game round goes to the Denver Broncos.
In the next post, part 3 of our series, "Broncos or Seahawks? Who's Winning the Social Bowl Game Beyond Twitter and Facebook?" we'll look at Google+, LinkedIn, Instagram and other social media sites that are important, but often overlooked.
Part 1, "Broncos or Seahawks? Who's winning the Search Engine Bowl Game?" is suggested reading if you enjoyed part 2.
What say you?
Did we blow this round? Do you have data and stats that you'd like included in the next round? Speak up in the comments section below.