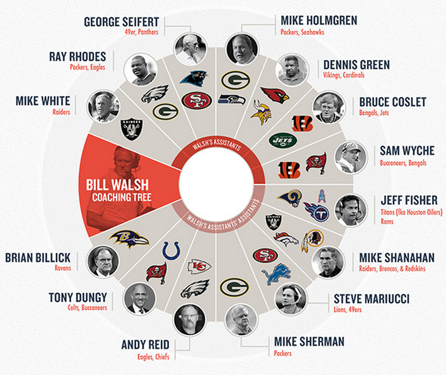 With the Super Bowl right around the corner, the smart folks at our software partner HubSpot decided to pit these two disparate groups against each other in the infographic below to decide which side is more successful. (Read the original post including HubSpot's methodology at the end of the post).
What are the chances that some the most successful people in the world all come from the same place? You can't help but ask that question when you look at the famous PayPal Mafia, a group of entrepreneurs and investors sprung from PayPal's $1.5 billion sale to eBay. From this small group, members have gone on to start or invest in famous tech companies likeYouTube, LinkedIn, Yelp, Tesla, and Square.

And just think: They all came from the same place. An anomaly, right?
Well, not so fast.
The same thing happened in the NFL. Bill Walsh, revered head coach of the San Francisco 49ers, cultivated a plethora of talent much like PayPal. Working on Walsh's staff proved to be a launchpad for a handful of coaches, and these leaders went on to coach numerous NFL franchises and win multiple Super Bowls and awards in the process.
Kudos to HubSpot creating and providing this infographic for our use.

What Say You?
Who did we miss? Is there another coaching tree you're more fond of? Let us know in the comments below.